ACCOMMODATION
All students will be accommodated in halls of residence for students. These facilities are located in the centre of the city – schools are at a walking distance or not further than three subway stops away. Rooms are single or double. WI-FI is available in all rooms.
Entry days are Sundays, from 14.00pm. Students must leave no later than Saturday before 12.00pm.
Other accommodation options are available (host families, shared flats, hotels) under request and they require prior contact with Spanish Learning Institute in order to arrange it as early as possible.
1 week
(6 days)

2 weeks
(13 days)

3 weeks
(20 days)

4 weeks
(27 days)

174 €

364 €

560 €

750 €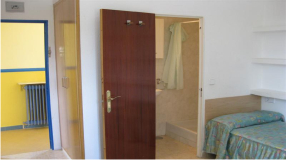 MEALS
Breakfast and Lunch: Students will have breakfast in the residence where they are staying; students have the choice of having lunch either at the residence or in the Spanish restaurant Marcelino, 10 meters away from the school. Both places offer home-made, Mediterranean food: students will get a taste of the most famous dishes in Spanish cuisine (paella, tapas, cocido…) and other Mediterranean dishes, freshly made with quality products. A vegetarian menu is also available.
Price per day: 14€
Dinner (optional): Because attendance to evening activities is not compulsory, and because from 19.00pm there will no longer be any school activities, dinner will be responsibility of the students. If you wish to have dinner included, please notify Spanish Learning Institute beforehand. Price per day: 20€.